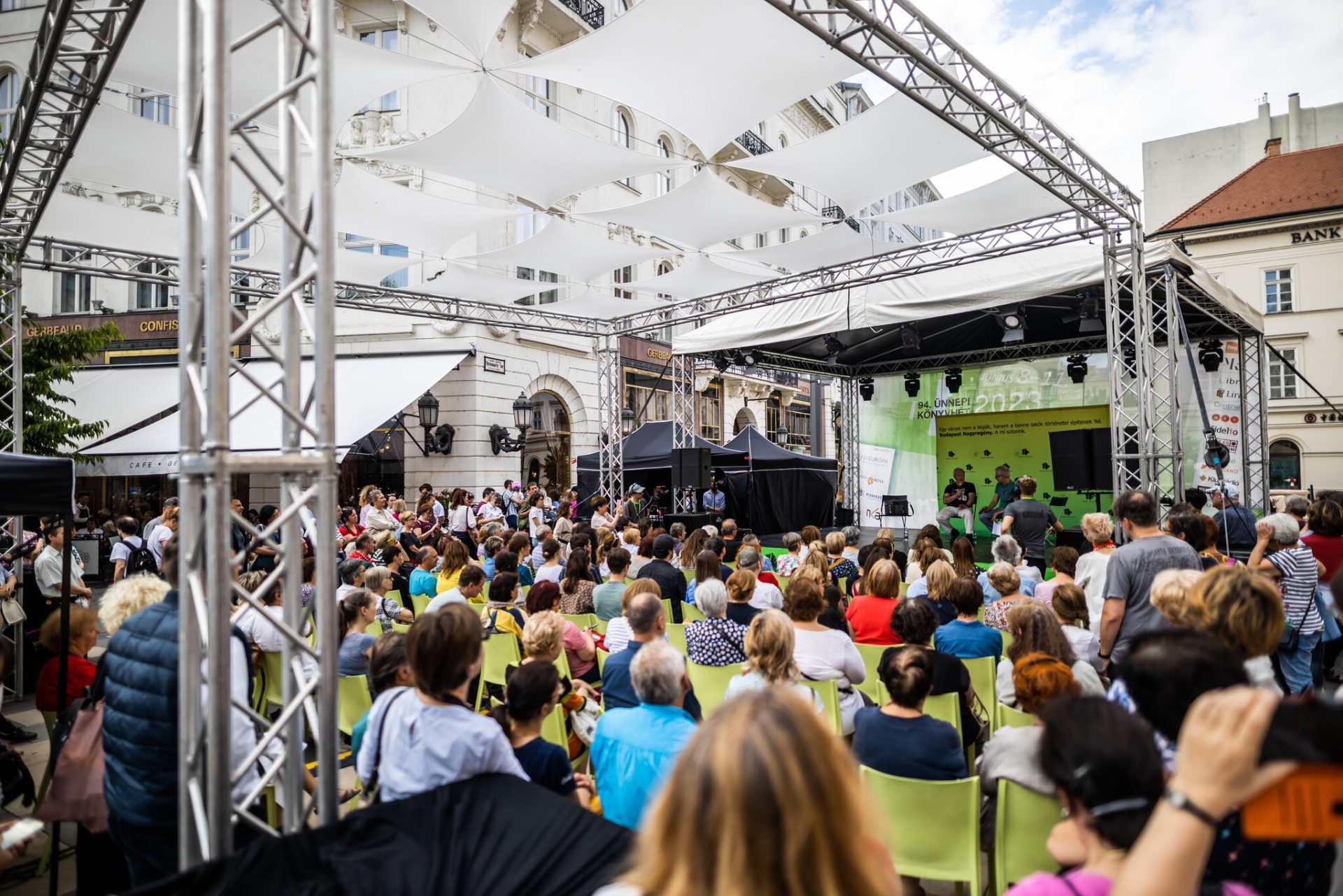 The Grand Novel Budapest at the 94th Festive Book Week
Hundreds of people came to Vörösmarty Square during the Festival of Books to meet the authors of the Budapest Grand Novel.
A city is not built by bricks, but by the stories of its inhabitants. Budapest belongs to all of us, it is our personal experiences that make it the city we see and love.
For the first time, the authors of the book were able to present themselves to the public. Máté Gáspár, head of the Budapest Big Novel project, and project manager Bence Vincze presented most of the contemporary writers working on the chapters in 30-minute round-table discussions on the main stage.
Gabriella Nagy, Edina Szvoren and Krisztina Tóth kicked off the Budapest Big Novel discussion series on Friday morning, while Anna T. Szabó and György Dragomán were Bence Vincze's panellists in the afternoon.
On Saturday morning, Renátó Fehér, István Kemény and Márton Simon took to the stage to talk about their experiences as lyricists involved in the creation of such a large-scale prose work.
In the afternoon, Máté Gáspár interviewed Réka Mán-Várhegyi, Imre Bartók and Miklós Vámos about how chapters about districts and their birth can become a novel, with the most important stages of Budapest's past 150 years shining through the life and layers of the story.
They told personal stories about their relationship with the capital and their district, how long they have lived here, and for those who were not born here, when and how they became Budapest citizens. The visitors were interested to hear what an experience and a literary adventure it is to be part of the creative process of this unique literary enterprise.
On Sunday morning, Máté Gáspár hosted Noémiemi Kiss and Gábor Németh on stage. In the afternoon, he talked to Orsolya Karafiáth, Andrea Tompa and Zsófi Kemény about the development of the dramaturgical structure of the Big Novel: how the search for recurring characters, situations, motifs (flavours, colours, music and other moments of life) inspires the authors, the dramaturg István Tasnádi, who coordinates their work, and the editor Dóra Péczely, who coordinates their work, to bring together the stories of the district that unfold from the writing world of the 23 authors.